Client Testimonial - Xavier garcia
Guidance Through Communication

To many Americans, learning about finance is like learning a whole new language. For immigrants and non-native English speakers, it can be even more difficult to accomplish basic financial tasks, like preparing for taxes, transferring money, or even cashing a check.
Multiservicios Aqui and its owner Xavier Garcia have been providing money services to its Spanish-speaking clientele in and around Columbus for seven years.
"Our typical customer is hardworking and dedicated to their job and family. They came here for a fresh start," Xavier said. "They want to do things right, but the system here is unfamiliar to them. We provide that guidance."
Multiservicios Aqui has an appropriate name. In English it means "multiservices, here." Customers can cash checks and get assistance with wiring funds or other transfers.
"Our customers trust us. Almost all of our business comes through word of mouth," Xavier said. "Beyond the services we provide, we are their link back home, wherever that may be."
Xavier knows the importance of such a link as much as anyone. His parents immigrated from the Dominican Republic more than 30 years ago. His mother ran a similar business.
To continue serving as such a valuable resource, Xavier needed a bank that would understand the vital role his business plays in the lives of his customers. Two years ago, Multiservicios Aqui's former bank ended their relationship because they didn't want to fund money service businesses anymore.
Xavier started his search for a new bank at the same place many people do: Google.
Google Maps provided Xavier with a map of banks near him, and Garcia called them one by one. LCNB was the only one that made time to explore a relationship with Xavier.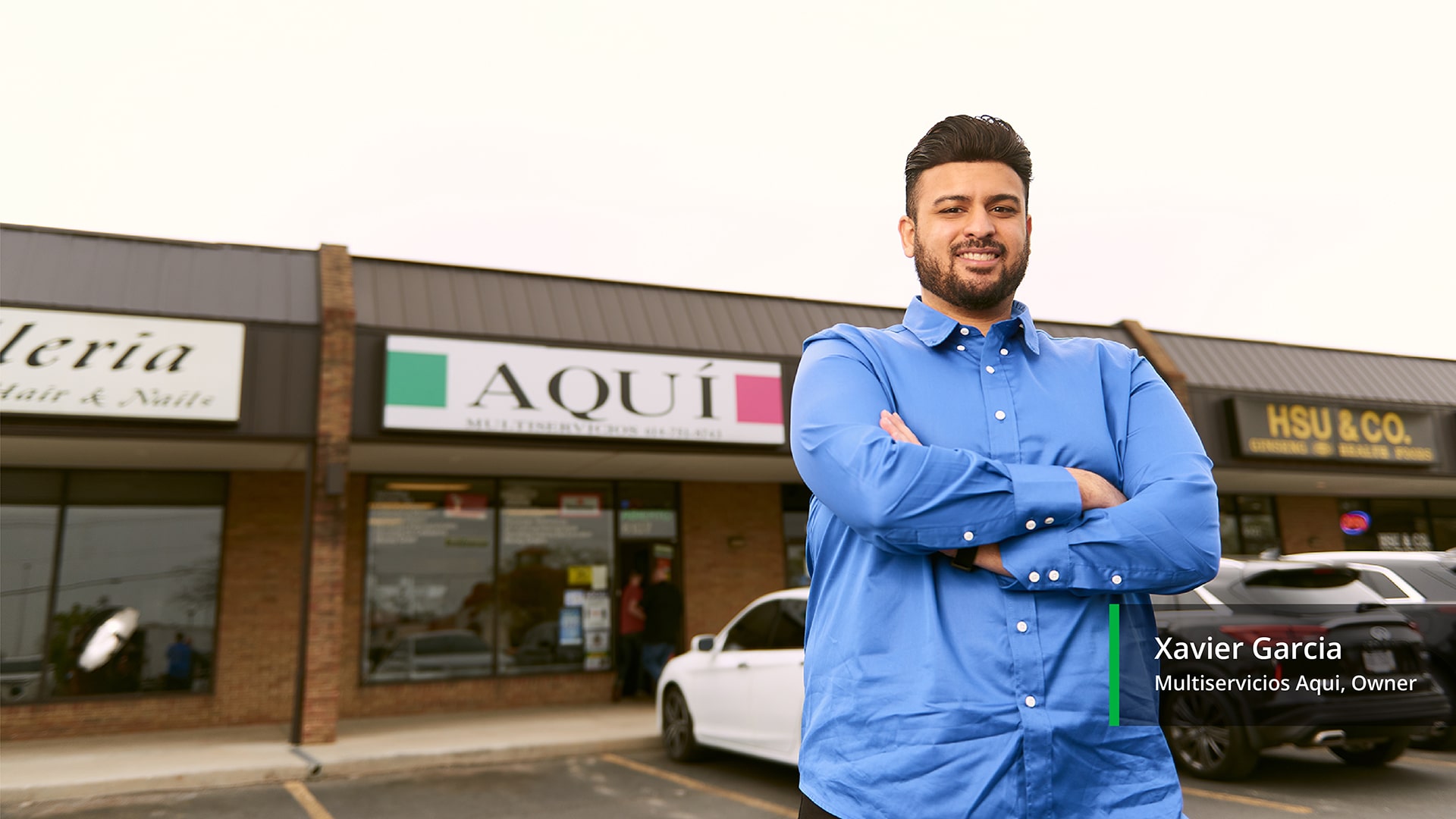 "As soon as I found LCNB and they were able to collaborate with me and my business, it was a weight off my shoulders," said Xavier.
LCNB branch officer Jennifer Heasley worked with Xavier to understand the business and craft a plan that gave him everything he needed. For Multiservicios Aqui, business picks up exponentially during tax season, which posed a cashflow challenge.
"In serving Xavier, one of the biggest things is anticipating the business. During tax season, he is so, so busy, and his needs increase dramatically," Jennifer said. "By ensuring those lines of communication stayed open, we were able to arrange the resources he needs to service his community during the busy season."
Jennifer worked with Xavier to ensure Multiservicios Aqui has the financing available to meet whatever's coming up on the calendar. Every time Jennifer visited Multiservicios Aqui, Xavier's employee Roger taught her a new Spanish word.
"It was our privilege to be the bank who said 'yes' when a lot of others had said 'no,'" Jennifer said.
Even though Jennifer left LCNB to spend more time with her family, all of our staff embodies Jennifer's approach to banking.
"LCNB is very kind to us," Xavier said, "Very professional, and very flexible when it comes to our needs."
We help our clients go further.
You're already an expert at what you do. Help us understand what you need and our financial experts will work to determine the best way to make it happen.
Whether you need to finance a construction project, update your equipment, manage your cash flow, or simply gain access to life-giving capital, we make running your business less complicated, so you can keep breaking boundaries.
hidden
08
Client Testimonial - Helping Bring Visions to Life
hidden
09
Client Testimonial - Guidance Through Communication
hidden
10
Client Testimonial - Fueling a Family's Growth
hidden
11
Client Testimonial - Going the Extra Mile
hidden
12
Client Testimonial - Banking at the Molecular Level
13
Client Testimonial - A Dentist on the Move
14
Client Testimonial - Trust and Transparency
Towne Center Square Partners, LLC
+
LCNB National Bank NMLS# 403521. All loans are subject to credit approval.
Pre-approvals are not a commitment to lend. The borrower may be required to submit additional information for review and approval.