Client Testimonial - Woodhull LLC
One-of-a-kind relationships make the difference for growing clients.

In 1950, Susie Woodhull's father-in-law started Woodhull Corporation, selling dictation machines. Over the past 70 years, Woodhull has evolved to provide copiers, printers, and numerous types of software for document management and business communication equipment. Woodhull remains a certified Woman-Owned Business Enterprise, operating in three states and employing over 80 workers.
Woodhull first partnered with LCNB in 2007 on a construction project for the company's headquarters in Springboro, and from that beginning, she found LCNB a natural fit.
"Everything was just easy," Susie said. "It was great to bounce ideas off of them and come up with something together. If there's anything that feels close to old-school banking, this is it."
"Being local ourselves, we're passionate about other local entities. When we started banking with LCNB in 2007, I couldn't believe how easy it was."
Her LCNB banker, Kelly Haworth, quickly became a trusted confidant. As viable opportunities presented themselves over the years, Susie started bringing Kelly in earlier and earlier on the process.
"When I call Kelly and say, 'Can we do this?' she always has a can-do attitude. Being an owner of a business, it's invaluable to have a partner like that," Susie said.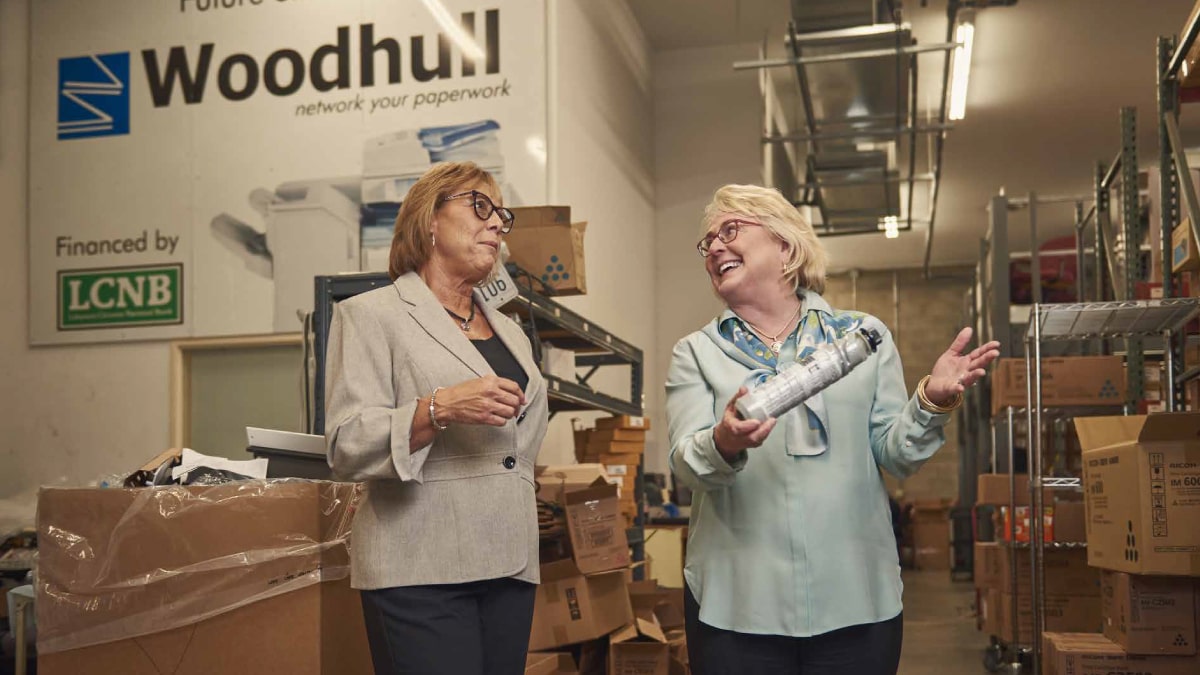 LCNB provided valuable reporting on Woodhull's performance on a regular basis and assisted in numerous acquisitions. In 2016, Woodhull enlarged its warehouse, and in 2020, the company built an additional 12,000 square foot warehouse to accommodate its growth. In each instance, LCNB worked with Susie through the process to create a truly customized loan solution that provided Susie with the maximum value possible.
"Even if it's something as simple as a new vehicle for our fleet, I call Kelly and talk about the best way to finance it," Susie said. "If I have extra money in our checking account, I call and ask how best to invest it. We've even called Kelly and said, 'Hey, one of our kids wants to buy a house, who should we talk to?'"
As Woodhull looks to the future, there's no doubt that LCNB will be there to facilitate the next steps. Susie and Kelly look forward to working together in tandem, to take the business further together.
We help our clients go further.
You're already an expert at what you do. Help us understand what you need and our financial experts will work to determine the best way to make it happen.
Whether you need to finance a construction project, update your equipment, manage your cash flow, or simply gain access to life-giving capital, we make running your business less complicated, so you can keep breaking boundaries.
WHY YOU NEED A BANKER
We'll help take your business's finances further together.
At LCNB, we want to get to know you, build a relationship, and understand your financial goals. All of this helps us craft personalized solutions for your business.
MEET YOUR LCNB BANKER +

LCNB National Bank NMLS# 403521. All loans are subject to credit approval.
Pre-approvals are not a commitment to lend. The borrower may be required to submit additional information for review and approval.
Client testimonials, Individual results may vary.