Get to know lcnb
2022 LCNB Community
Banking Report

Originally founded in 1877 as the Lebanon National Bank, LCNB National Bank has evolved significantly over 145 years of existence. It wasn't until 1962 that Lebanon Citizens National Bank (as it was then known) opened its first branch office, located in South Lebanon. At the time of the Bank's centennial in 1977, there were just 50 employees and three offices. The subsequent years saw a period of organic growth as the Bank expanded with the construction of five new offices throughout Warren County, leading the company to exceed the $100 million mark in assets for the first time in 1984.
Growth continued through the late 1990's, highlighted by new branch facilities, acquisitions, and the formation of LCNB Corp in 1999. By 2001, LCNB National Bank had grown to 18 offices, 250 employees, and $480 million in assets.
Safety and soundness have long been a hallmark of LCNB National Bank; this approach served the company well through the financial downturn of 2008 and following. Emerging from the recession with renewed resolve, LCNB began a measured path of strategic growth through acquisition, completing four transactions from 2013 through 2018. As a result, LCNB National Bank now has 30 full-service branches across ten Ohio counties and employs over 350 people, many of them based in a state-of-the-art Operations Center in historic downtown Lebanon which opened in 2017. Of course, we also serve our customers beyond the branch through a suite of convenient and secure digital services, including online banking, mobile banking and online treasury services. In the interest of safety, convenience and business continuity, remote work has now become commonplace at LCNB.
As we look to the future, LCNB National Bank seeks to expand its reach while retaining its community banking service model.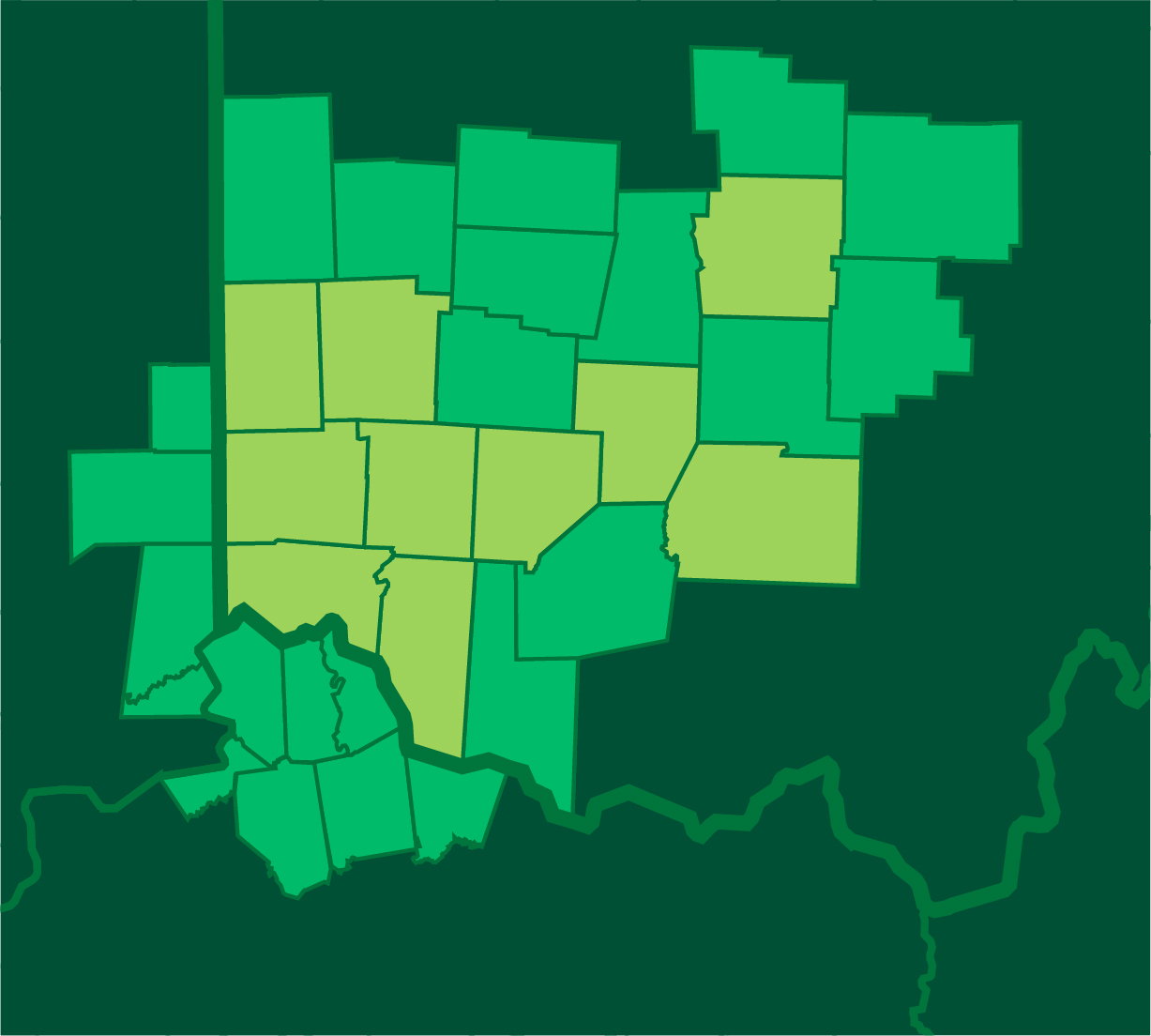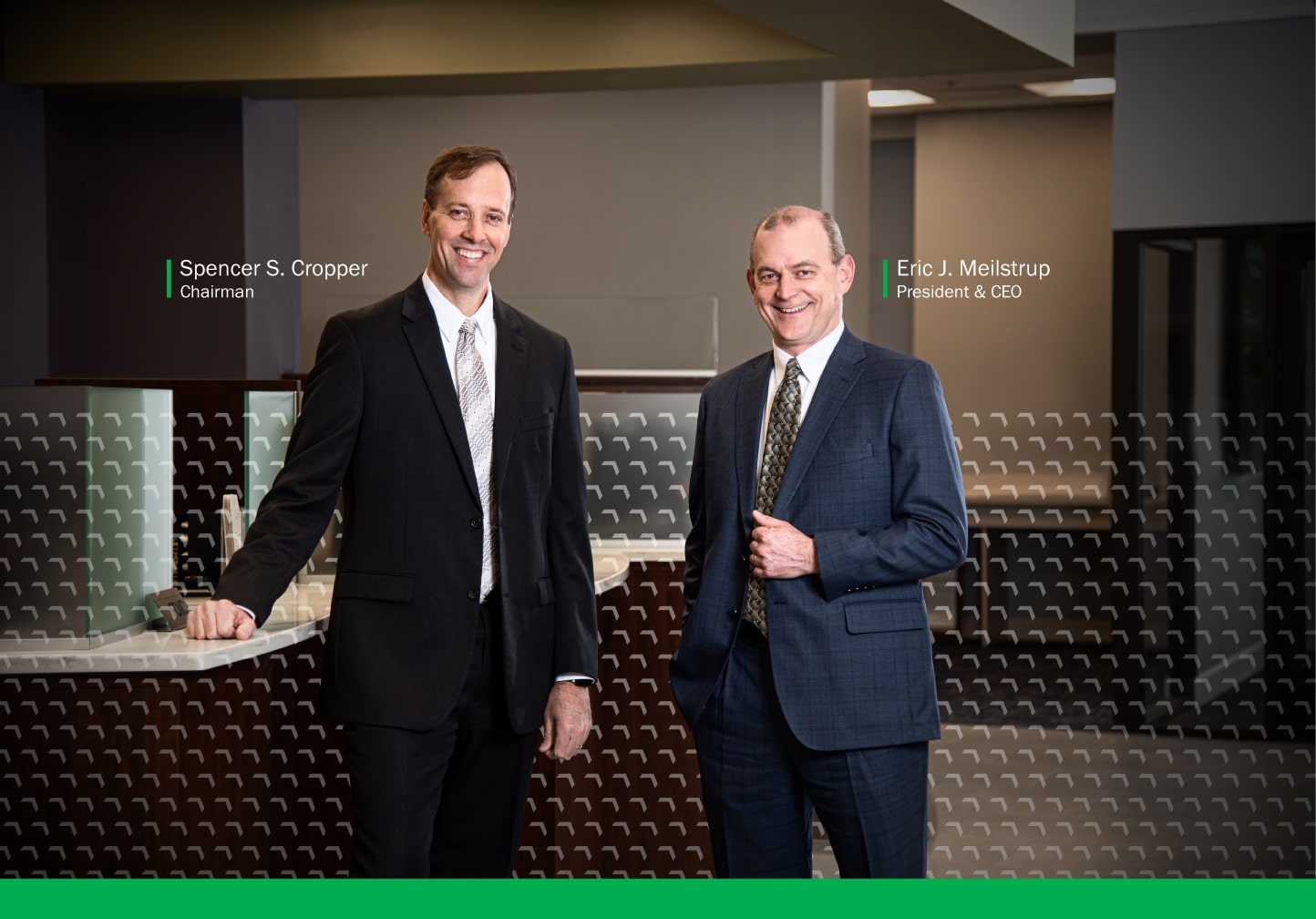 A Message from LCNB Leadership
Whether you are a shareholder, customer, prospective customer, vendor partner, employee, civic leader, or friend, we thank you for your interest in LCNB National Bank. As a community bank, it is our privilege to have an impact on communities throughout the ten Ohio counties in which we are located and even beyond, as our customer relationships span the entire region and across state lines.
2021 was again a year that saw operational challenges for businesses in all sectors. However, we are pleased to report that it was a banner year in many ways for LCNB, including record earnings, record earnings per share, and significant loan growth. A key to our financial success over the past year was the strong, ongoing relationships that we have with our customers.
People are at the heart of our business. As always, the Board of Directors and Senior Management are thankful for the dedication of our over 350 associates as they serve our clients and operate our institution. We are also thankful for the investment of our shareholders, without which we would not be able to pursue our mission to serve our clients and communities.
With our financial success as a foundation, we remain optimistic about the future of LCNB National Bank. We will always continue to pursue the above mission while providing positive returns for our shareholders.
We hope that as you review this report, you'll learn something about LCNB National Bank that you perhaps didn't know before. Whether it's the breadth of our services, the scope of our locations, or the depth of expertise that we can deliver to our customers, we hope you'll come away with some new perspectives regarding our community bank.
In recognition of the collective efforts of the entire team at LCNB, we are pleased to present selected financial information and highlights from the year 2021 over the following pages.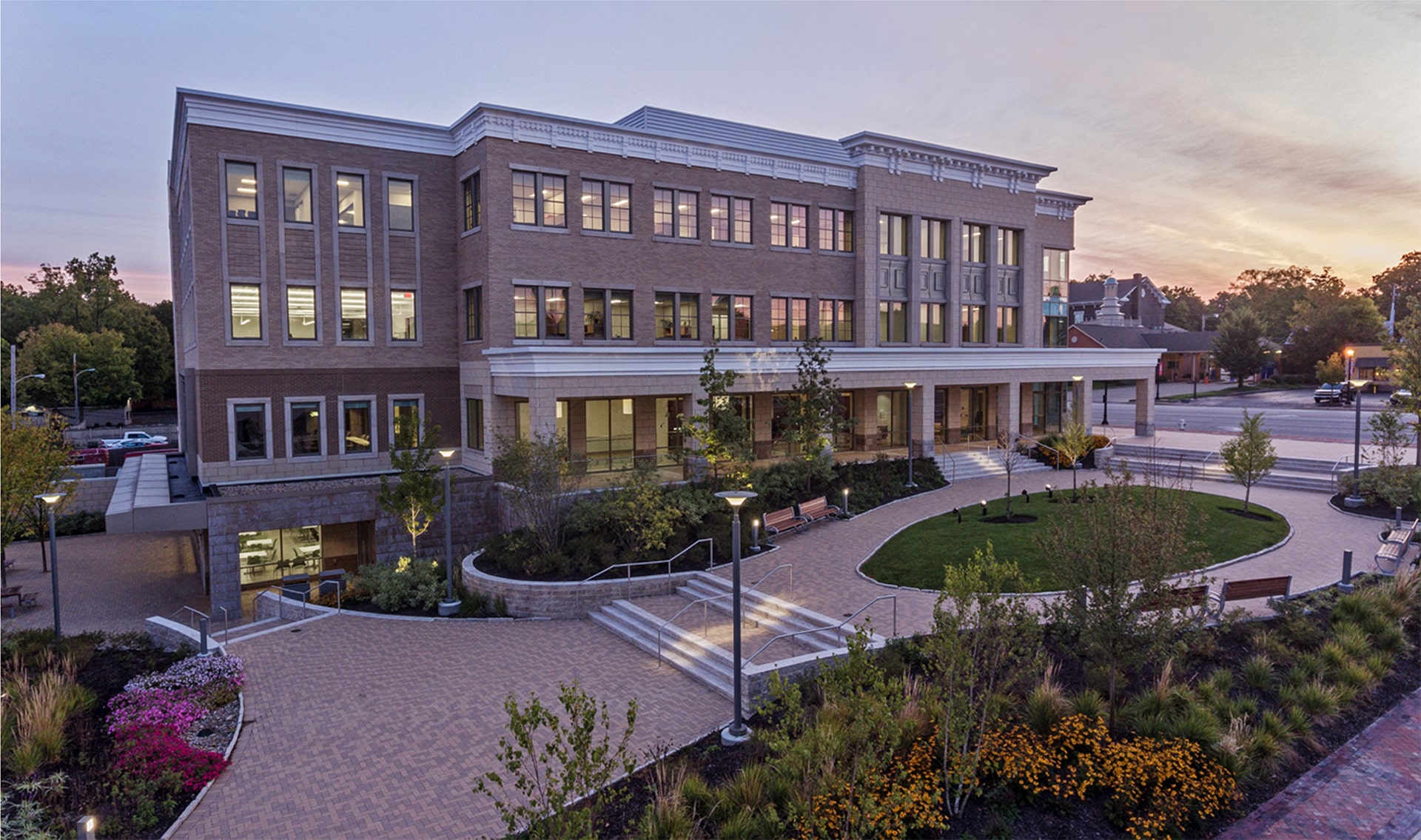 LCNB Corp & Subsidiaries
Selected Financial Data
The following represents selected consolidated financial data of LCNB Corp. (NASDAQ: LCNB) for the years ended December 31, 2017 through December 31, 2021 and are derived from LCNB's consolidated financial statements. Certain prior-year data presented in the table have been reclassified to conform with the current-year presentation. This data should be read in conjunction with the consolidated financial statements and the notes thereto included in Item 8 of Form 10-K and with Management's Discussion and Analysis of Financial Condition and Results of Operations and Quantitative and Qualitative Disclosures about Market Risk included in Items 7 and 7A, respectively, of Form 10-K and are qualified in their entirety thereby and by other detailed information elsewhere in LCNB Corp.'s 2021 Form 10-K.
Bauer Rating
In light of our strong capital position, profitability, asset quality, and steadfast history, LCNB National Bank has once again been named a 5-Star institution by independent rating service Bauer Financial. This rating of Superior is Bauer's highest ranking.
Rating is current as of March 2022 based on December 31, 2021 financial data.
commercial banking
LCNB has long been a partner to businesses throughout the region, providing financing, depository, and cash management services to a variety of commercial enterprises and small businesses—including many who operate beyond our branch footprint. Like other areas of the Bank, 2021 was a year of growth.
5.0% increase
Commercial loans held at year-end grew by $48 million, a 5.0% increase.
Growth was paced by LCNB's commercial real estate (CRE) lending, with year-end totals up 5.4% over 2020. Increases in outstanding loans occurred even though over $40 million of Paycheck Protection Program (PPP) loans made in 2020 and 2021 were forgiven or repaid in 2021. Loan quality remains strong, with delinquency and charge-offs at a minimum even during another year of varying confidence indicators. Our lending policies and underwriting standards allow the Bank to sensibly lend with a focus on providing responsive solutions for our clients. Our extremely low loan losses in 2021 were largely a result of LCNB's emphasis on financial soundness, which benefits our loyal client base.
During the first quarter of 2021, LCNB participated in the second round of the SBA's PPP program, making loans to over 350 local businesses with the help of a brand-new online portal that facilitated an easier application process. All bank clients who have applied for loan forgiveness have to date received it, aided by LCNB's online forgiveness portal.
LCNB relies on a combination of experienced bankers and efficient technology to serve our clients. Several new commercial lenders were hired during the year, strengthening our presence in the Columbus area as well as in Greater Cincinnati and Northern Kentucky.
LCNB also provides Cash Management services to our clients offered through digital channels and supported by helpful staff. Business Online Banking remains a valuable resource, with a recently-redesigned interface. Our Treasury Management staff offers products like ACH origination, Remote Electronic Deposit, Positive Pay and Lockbox and works closely with our clients on fraud-related issues and loss mitigation. In 2021 the Bank partnered with a new Merchant Services provider, Celero, to provide access to a broader range of card acceptance and POS solutions for businesses of all types.
LCNB also has a special focus on smaller businesses, continuing to train our branch-based officers to better help them add value when consulting with business owners. Quick-turn small business loans remain successful, utilizing the owner's personal credit status to facilitate a streamlined loan process and faster funding. And in late 2021, LCNB introduced Autobooks as an integrated invoicing and payment acceptance solution within Business Online Banking.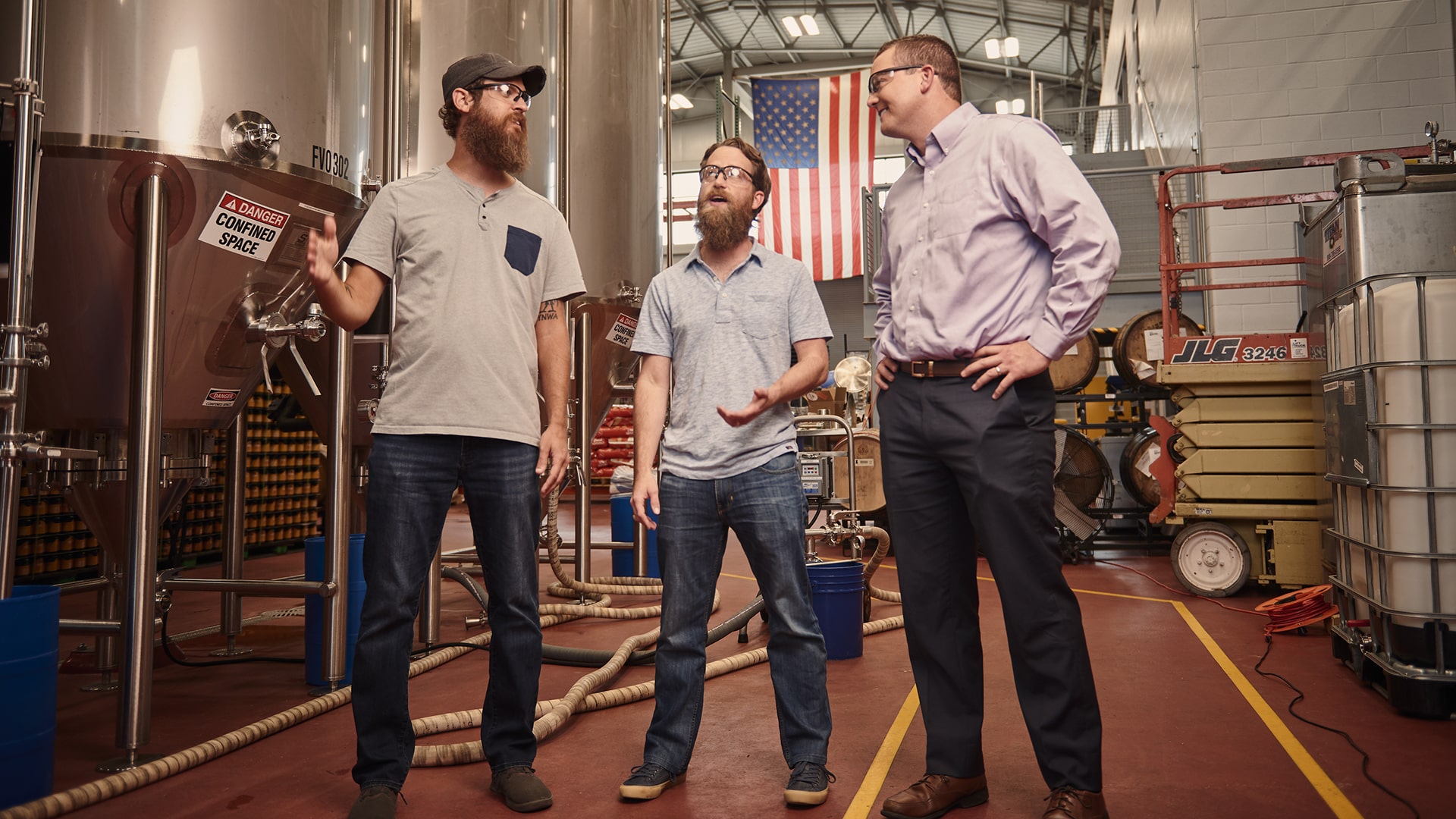 "Having a bank you trust lets you think more strategically."
Brady Duncan & Kenny McNutt
Co-Founders of Madtree Brewing Co
"With LCNB, I know my banker, and he knows my business."
Jason Williams
President of Charter Properties
We help our clients go further.
You're already an expert at what you do. Help us understand what you need and our financial experts will work to determine the best way to make it happen.
Whether you need to finance a construction project, update your equipment, manage your cash flow, or simply gain access to life-giving capital, we make running your business less complicated, so you can keep breaking boundaries.
Personal Banking
LCNB National Bank works hard to provide a Further Together banking experience to our personal banking customers, no matter their stage of life or financial status.
LCNB continues to provide our customers with banking options that align best with their personal preferences. An internally-conducted survey of our consumer clients indicated that our desktop online banking and mobile banking offerings were the most important service channels to our clients, with drive-through banking at our branches also a preferred option as the pandemic era continued in 2021. Fortunately, these same survey respondents also indicated that they were well pleased with the LCNB experience associated with these offerings.
In deposit services, our partnership with Kasasa continues to grow, enabling LCNB to provide outstanding interest rates and cash rewards to clients who choose Kasasa Checking and Savings products. As of mid-January 2022, there were over 7,100 Kasasa personal checking accounts open at LCNB, comprising over 20% of our deposit customer base. And fully half of the personal savings accounts at LCNB are Kasasa Saver accounts, as people take advantage of the higher-than-market interest rates offered on these accounts. Our free, no-frills LCNB Simply Checking account remains quite popular as well.
Desktop online banking and mobile banking offerings were the most important service channels to our clients.
It was another successful year for the consumer lending function at the Bank. Consumer lending balances increased 6.4% year over year, led by an 8.0% increase in mortgage and home equity lending. The helpful staff located at LCNB branches continue to be an important driver of this success offer consultative guidance to clients on the loans that best fit the customer's needs. The interface for online loan applications was also upgraded, being more device-responsive and easier to use in 2021, providing convenience and flexibility to borrowers.
Consumer lending balances increased 6.4% year over year, led by an 8.0% increase in mortgage and home equity lending.
LCNB also continues to invest in technology to improve both efficiency and the customer experience. Automated back-office workflows are becoming commonplace at LCNB, increasing our capability to serve and communicate with our customers in a more timely fashion. Digital capture of both customer identification documents and e-signatures are currently in the implementation process. Our online and mobile banking platform now offers a secure chat feature, enabling efficient conversation between customers and Client Care Representatives. And contactless debit cards have been rolled out to new and renewing card customers, providing our customers with the ability to "tap to pay" at point of sale.
Finally, the LCNB Financial Learning Center was launched in early 2021, providing our clients with access to engaging, interactive learning modules covering a wide range of topics. From the basics like establishing a budget and managing credit to lessons in investing and financial caregiving, thousands of our customers turned to this free online resource in its debut year.
LCNB NATIONAL BANK NMLS# 403521. ALL LOANS ARE SUBJECT TO APPROVAL.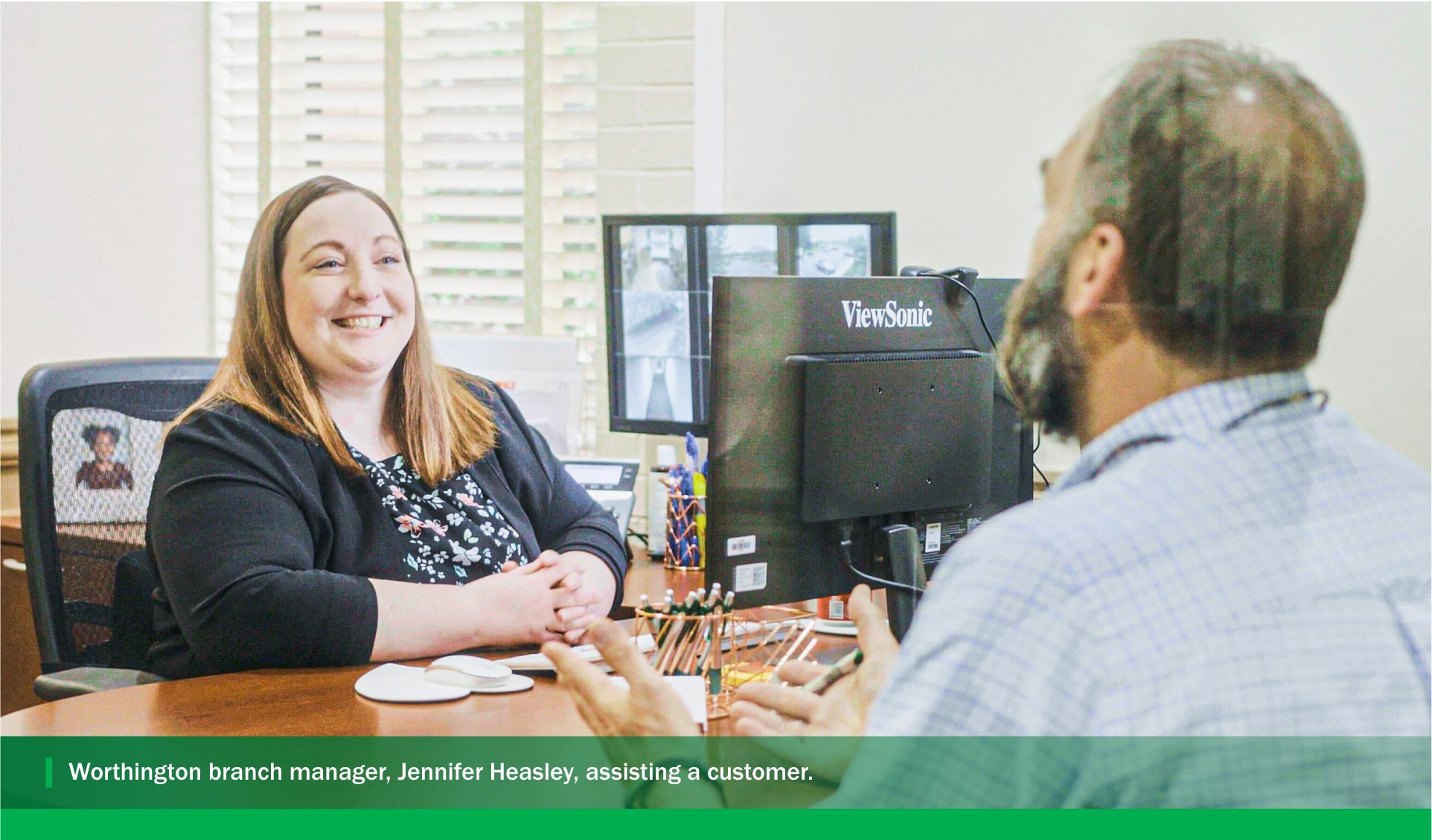 Wealth Management
LCNB's Wealth group traces its roots back to 1938 and has been a part of LCNB National Bank and its legacy brands ever since. Originally known as the Trust Department, LCNB Wealth now encompasses both Trust Advisors and LPL Investment Advisors under a single brand. This model allows us to assess a client's situation and objectives and align them with the professionals and product line that is best suited to serve the client's needs.
$1.06 billion
LCNB Wealth finished 2021 with $1.06 billion in combined assets under management.
2021 was a historic year for LCNB Wealth as the group surpassed the $1 billion mark in assets under management (AUM). This milestone marks a period of sustained growth for the wealth function at LCNB, as AUM stood at $492 million just five years ago. Additionally, each unit of LCNB Wealth—Trust Services and Investment Services—hit record highs in both AUM and income generated. Total AUM as of December 31, 2021 was $1.06 billion.
The highly-credentialed staff of LCNB Wealth operates out of home offices and in-branch offices throughout the LCNB footprint, allowing our team to be close to their clients. Face-to-face or online meetings are at the core of our client interactions, and phone calls to our advisors' direct lines or mobile phones are commonplace in our service model.
While technology plays an important role in our investing and our clients' monitoring thereof, LCNB Wealth Management is foremost a relationship-driven business. With eight attorneys and credentialed trust and investment professionals on staff, we effectively interact with our customers' attorneys, CPAs, and other advisors to help navigate Financial, Estate, Trust, and Investment planning matters for the long-term benefit of our customers and their families.
LCNB Wealth also made strides in its communications efforts during 2021, providing insights on market developments through both quarterly publications and online content. Additionally, the team produced a video that demonstrates how LCNB's focus on people and relationships creates a positive client experience.
LCNB INVESTMENT SERVICES: Securities and advisory services are offered through LPL Financial (LPL), a registered investment advisor and brokerdealer (member FINRA/SIPC). Insurance products are offered through LPL or its licensed affiliates. LCNB National Bank and LCNB Investment Services are not registered as a broker-dealer or investment advisor. Registered representatives of LPL offer products and services using LCNB Investment Services and may also be employees of LCNB National Bank. These products and services are being offered through LPL or its affiliates, which are separate entities from, and not affiliates of, LCNB National Bank or LCNB Investment Services. Securities and insurance offered through LPL or its affiliates are: NOT A DEPOSIT | NOT FDIC INSURED | NOT INSURED BY ANY GOVERNMENT AGENCY | MAY LOSE VALUE | NOT GUARANTEED BY THE FINANCIAL INSTITUTION
The past two years saw the emergence of a new brand identity for LCNB's long-established wealth management functions. The Trust Department and Investment Services teams are now collectively known as LCNB Wealth, while retaining their individual identities and roles under that umbrella brand.
More About LCNB Wealth +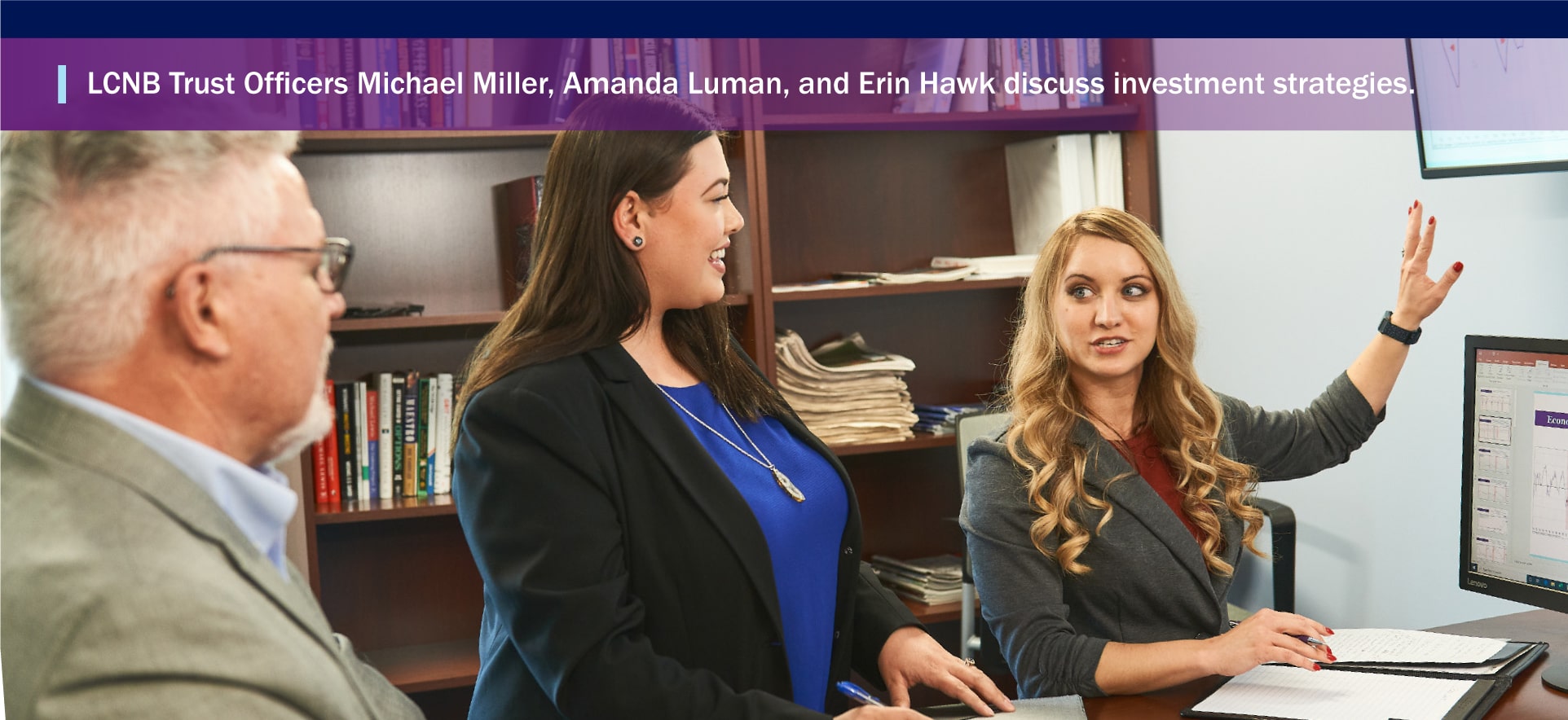 LCNB National Bank Report to the Community
LCNB National Bank is first and foremost a community bank. That designation is not merely one that defines the size of our institution, but one that defines our mission. We look to serve our communities and the people within them not only by providing accessible financial services, but by providing support in many ways.
See the Community Report +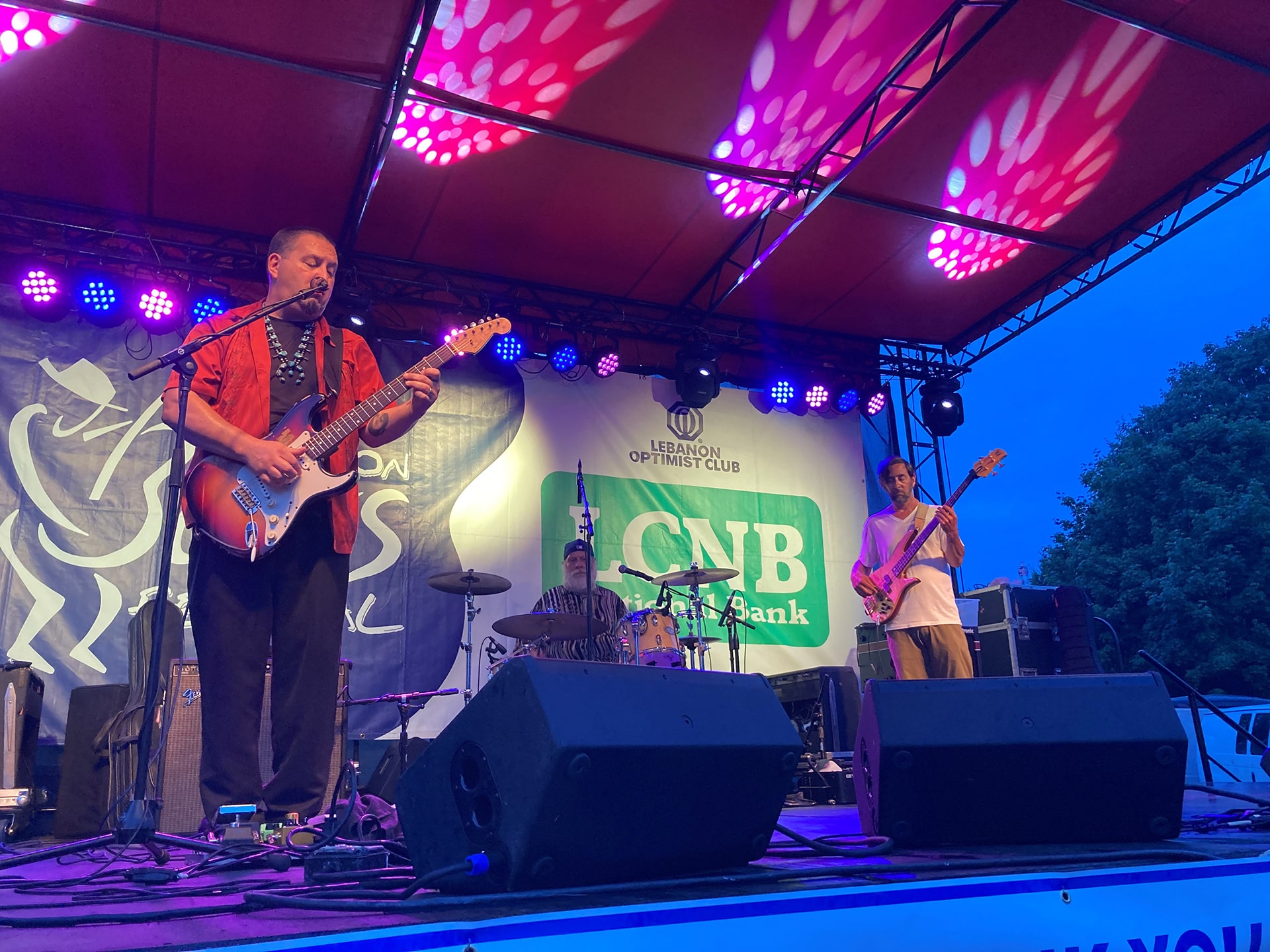 The LCNB Brand &
Further Together
In November 2020, LCNB introduced the tagline Further Together to the public through various marketing campaigns. The concept was integrated into print advertising, television commercials, product brochures, and client testimonial videos, as LCNB National Bank worked to communicate that by aligning with the Bank, individuals and businesses could make progress toward their life aspirations. LCNB seeks to help its clients go further by offering a true banking relationship and personalized expertise to complement its products and solutions. We know that our Bank's success is based on the success of our clients. We all can go Further Together than we can alone.
Further Together
As Corporate Culture
While the tagline has been successful as a marketing theme, Further Together has evolved to be much more than that. It's become an embodiment of our company culture. Our leadership is dedicated to the satisfaction, success, and well-being of the over 350 associates spread across ten counties. The Further Together concept recognizes that our associates are the most important factor contributing to the Bank's success, in that their actions collectively define and create the client experience.
LCNB leadership is committed to nurturing our associates through tangible career growth and development programs and creating better, more capable individuals—and a better bank—as a result.
Another hallmark of LCNB's culture is open communication, starting at the top of the organization. Weekly emails from and quarterly virtual town halls hosted by the President provide every associate the ability to hear what's on the mind of Executive Management. Everyone can learn where the Bank is going, what we can be improving upon, and the successes that we have achieved together.
The Bank also invests in the well-being of its associates through an EAP program and the LCNB Care Center, which helps employees navigate healthcare options and the claims process. A Health and Wellness Committee comprised of associates from across the bank promotes topics such as fitness, nutrition, and mental health.
DIVERSITY, EQUITY & INCLUSION
Further Together has also influenced and inspired LCNB's internal Diversity, Equity and Inclusion Council (DEI) as they work to create an environment where diversity is better understood and celebrated at LCNB. At the heart of their mission is cultural and educational development, the integration of varied ideas and perspectives, and the discovery of new opportunities for all.
Among the achievements of the DEI team during 2021 was the facilitation of two educational experiences that directly relate to the banking industry. LCNB's Loan Department experienced an intensive training on the topic of implicit bias and how it can affect lending and banking practices. Additionally, LCNB sponsored a traveling exhibit titled "Undesign the Redline", which educated audiences (including our own bankers) about the history of redlining and discriminatory lending in 20th century Dayton, Ohio.
The Recruiting and Retention subcommittee of our DEI group, along with our Human Resources team, grew relationships with several higher-education and post-graduate groups as the Bank sought to expand its talent pool and impact underserved communities. Sigma Gamma Rho, the National Panhellenic Council, and HBCU and other colleges were among the audiences engaged with LCNB.
Leadership and officers at LCNB continue to participate and consult with a number of professional organizations that in whole or part are focused on positive outcomes through DEI programs. Included in these organizations are the National Conference for Community & Justice of Greater Dayton (NCCJ), Hispanic Chamber Cincinnati USA, the Central Ohio African American Chamber of Commerce, the Ohio Bankers League, and the American Bankers Association.
LCNB has also achieved 25% Board Diversity, in part through six new Directors being added since 2018.

Further Together
We couldn't have gotten this far without you. We can't wait to go Further Together.