Client Testimonial - PLK Communities
Putting Communication into Action

When developing luxury apartments and condominiums, plans can fluctuate right up until ground breaks on a project. PLK Communities needed a bank who could keep up.
"LCNB has been very responsive," said CFO Jon Blackham. "We may change the exterior of the building, or we may decide to build 130 units instead of 120. They've been able to move as quickly as we do."
Based in Cincinnati, PLK boasts 25 locations in Ohio and Kentucky with many more under development. Projects of this magnitude depend on numerous factors, and bringing them to life requires open communication and reliability. LCNB first stood out to Blackham as a potential partner because of their willingness to ask questions and understand the project.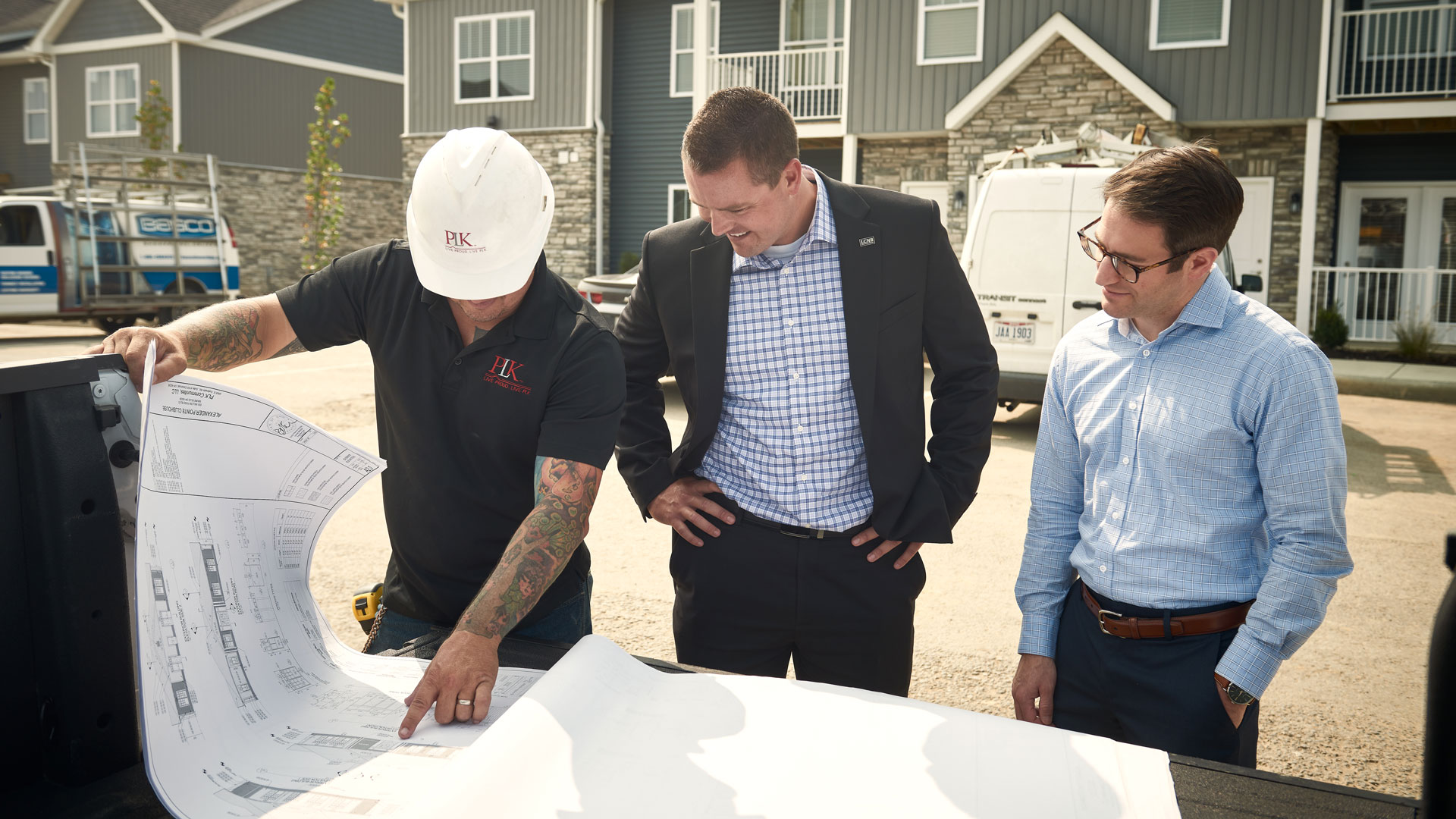 "When you get a commitment from bankers and they don't ask any questions, that's a red flag," Blackham says. "You don't want to partner with a bank that doesn't understand the risk. LCNB goes the extra mile to do their due diligence."
The way that LCNB arrives at its terms allows PLK to move its projects forward with confidence. LCNB bankers don't propose terms without getting the blessing of the entire team. As such, PLK knows LCNB will stand by their terms all the way through closing.
"With other banks, a banker gives us a term sheet, but they don't have the ability to collaborate with bank leaders," Blackham said. "Then we get close to closing and someone removed from the initial process has a qualm at the last minute. That doesn't happen with LCNB."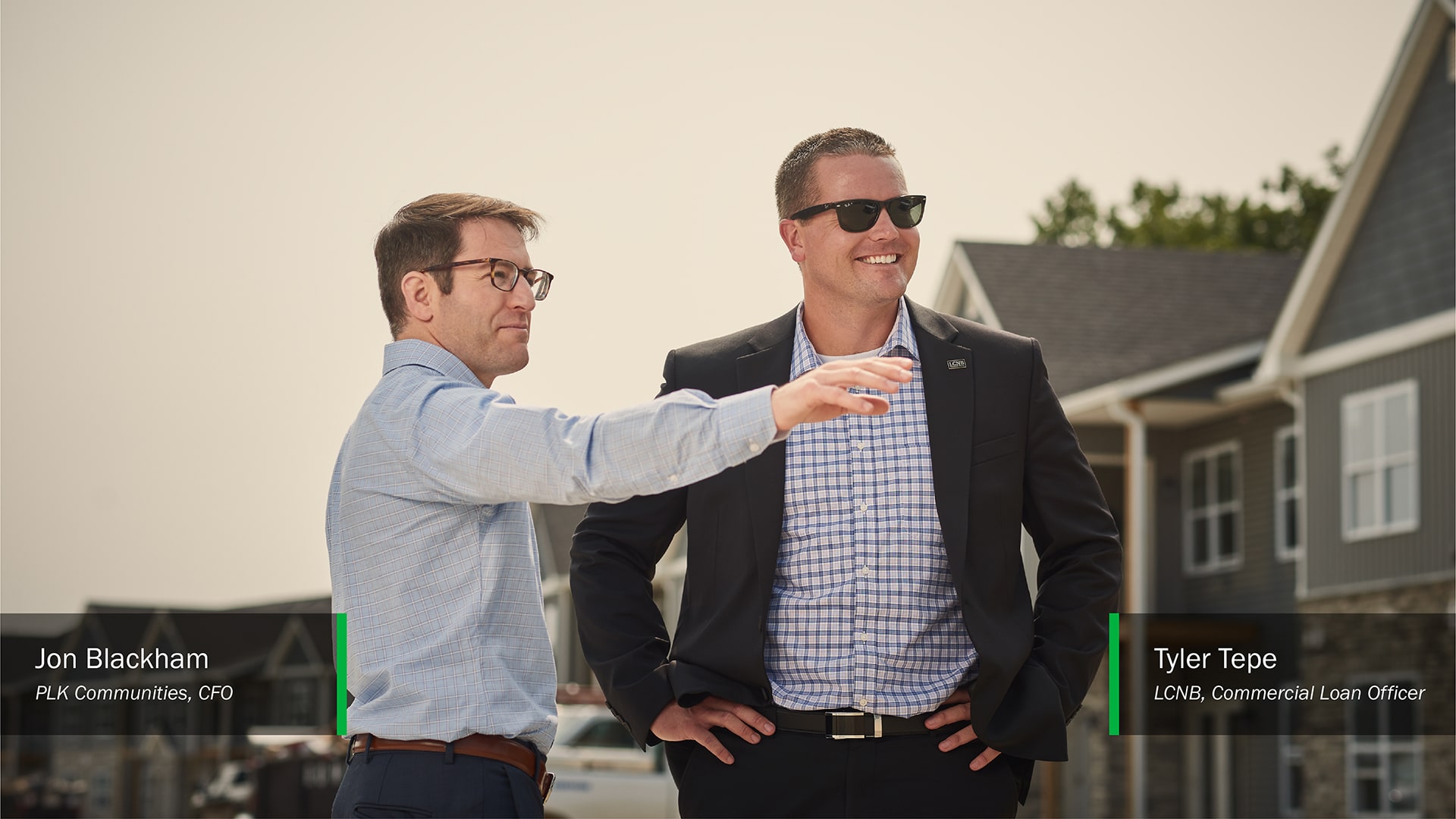 LCNB's wide range of expertise helps PLK accomplish myriad goals. From apartments and condos to retail buildings and self-storage buildings, LCNB has helped with every aspect of the business.
"I have a great relationship with my banker, and I'm confident knowing that he has the entire LCNB team at his disposal." Blackham says. "They are quick to dissect a deal, assess risk and make a decision. Their timeliness helps to reduce stress and complication for me."
Commercial Loans
You probably have a good idea of what your business needs next, and we're here to help you get it with a customized lending solution. Whether you're upgrading equipment, expanding your space, stocking inventory or anything else, our team can help make it happen.
Let's Work Together +
All loans subject to approval.
We help our clients go further.
You're already an expert at what you do. Help us understand what you need and our financial experts will work to determine the best way to make it happen.
Whether you need to finance a construction project, update your equipment, manage your cash flow, or simply gain access to life-giving capital, we make running your business less complicated, so you can keep breaking boundaries.
WHY YOU NEED A BANKER
We'll help take your business's finances further together.
At LCNB, we want to get to know you, build a relationship, and understand your financial goals. All of this helps us craft personalized solutions for your business.
MEET YOUR LCNB BANKER +

LCNB National Bank NMLS# 403521. All loans are subject to credit approval.
Pre-approvals are not a commitment to lend. The borrower may be required to submit additional information for review and approval.
Client testimonials, Individual results may vary.